Hi, I'm popping in today as I am honoured to have been nominated in the Blog Hop by Bianca from
Vintage on Tap
. Do you read Vintage on Tap? It is a new to me blog, but already a firm favourite in my reader. I'm so glad Bianca contacted me. She is clearly a lady after my own heart with some Liberty makes (including a tie out of fabric that I have - the temptation to copy is very high!!), but more than that she has a great style. I particularly like her 'set up' blog posts and her philosophy of focussing on slower, quality sewing. Defnitely go and check out her blog. I know you'll like it.
The blog hop was started a while ago and I am ashamed to say that I don't know where it started but the idea is to answer 4 questions and then pass onto 2 other bloggers who will respond to the same questions in one weeks time. First to the questions:
1. Why do you write?
I started writing so that I could participate more in the sewing community. I think
instagram
has now removed a little the need to have a blog for this, but when I started Top Notch in 2012, it seemed like the only way to be able to connect with other sewers. At the time I didn't really know anyone else who sewed and so talking about sewing was all online.
Like most sewing blogs, mine documents my sewing journey and love that it reference of all my makes. I started right about the time of Me Made May 2012, which allowed me to document a lot of my earlier makes as I wore them. The blog helps me remember what I made, what went wrong, what went right. In a way it also helps me to identify what looks good and what doesn't. I'm sure I never used to analyse my clothes in the same way as I do now. I defnitely never had so many photos! I wonder has it made me more creative in my clothing choices as well?
Oh and of course it is a place for me to document my obsession with Liberty of London through my
Library of Liberty
!
2. What are you working on?
Currently I'm working on t
he Skippy Dress by Make it Perfect
. A wonderfully casual dress that I'm making as a 'get outside and be active' kind of dress now that spring is here.
I am also completely besotted with some patterns in a new Japanese release, Clean and Natural, which I can't wait to start on.
3. How does it differ from others of it's genre?
Maybe it's all about the patterns,
I'm not sure my blog is that different from anyone elses, but I do like an interesting piece of fabric. I love Liberty of London fabric and I make a lot with it. I look forward to each of their 6 monthly releases. There are not too many finished pieces that go by before a Liberty make will pop up. Liberty fabric makes me sew better - and no I wasn't paid to say that. It just does. I always sew better with it. Even more I love to document the history and story of this fabric, so you will always see the story behind the fabric.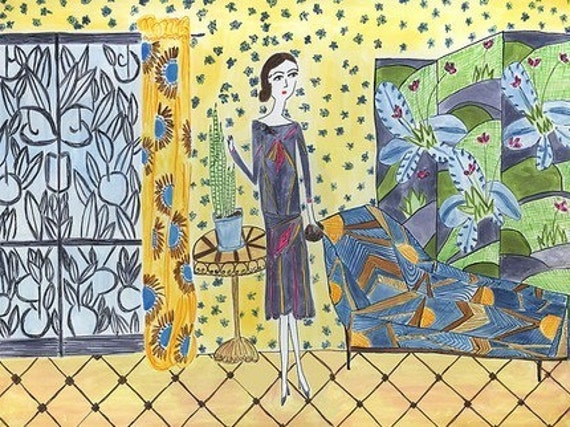 'The Perils of Patterns' by Vivienne Strauss. Available on Etsy
I think most of us have problems identifying their style, but we know it when we see it. At the moment I find the style of
Republique du Chiffon
,
Pauline Alice
and some of the
Named Patterns
really work for my aesthetic. I love stripes and drop waists! I wear my handmade clothes everyday, but I wouldn't say that I ever make basics, nor do I really want to.
4 How does your writing process work?
Nowadays I usually only post on finished makes unless it's something special. I used to post more but find that this routine is working for me better. I try to provide as many details on the make as I think are ok and won't bore everyone and as a reminder to myself if I make the pattern again. Once I've made something, I'm definitely in a rush to post about it!
So now to the next blog hop..
I'm nominating Myra from
My-Zee-Moo
and Jen from
the Stitcher and Gatherer
. Having this blog has opened up a lot of great friendships, with people who I will probably unfortunately never meet in real life, people I know I will one day meet and now people who I've met in real life and who have become really good friends.
I now have a wonderful posse of Canberra gals after a few stars aligned earlier in the year and we all met. I mentioned last post that Myra, Jen and Amanda and I went up to Sydney on the bus together to
Frocktails
. All four of us stayed together in a little hotel room and for being able to put up with my constant nose blowing and snuffling I'm now sending the blog hop to Myra and Jen, two super talented sewers with their own unique style and approach to sewing. You can read up on their answers next week.