Remember when I made
that quick and dirty muslin
of the
Cami dress
- in about 2 hours!? And I hated it. Well, maybe not hated it exactly, but felt that it just looked awful on me. Well, buoyed by your comments, I decided to make it and now, at the end of the
Sewalong
I have a finished
Cami
!
All buttoned up with cuffs down
The fabric is Joy and Sorrow C from the Liberty of London Autumn Winter 2013 Touch story. I bought this fabric from
Shaukat
as soon as it became available there, as I couldn't find a stockist for it in Australia and with
Tiny Dancers
, it is probably my favourite of all of the AW13 designs. I must admit that I was expecting the pattern to be bigger but the scale works well for this dress.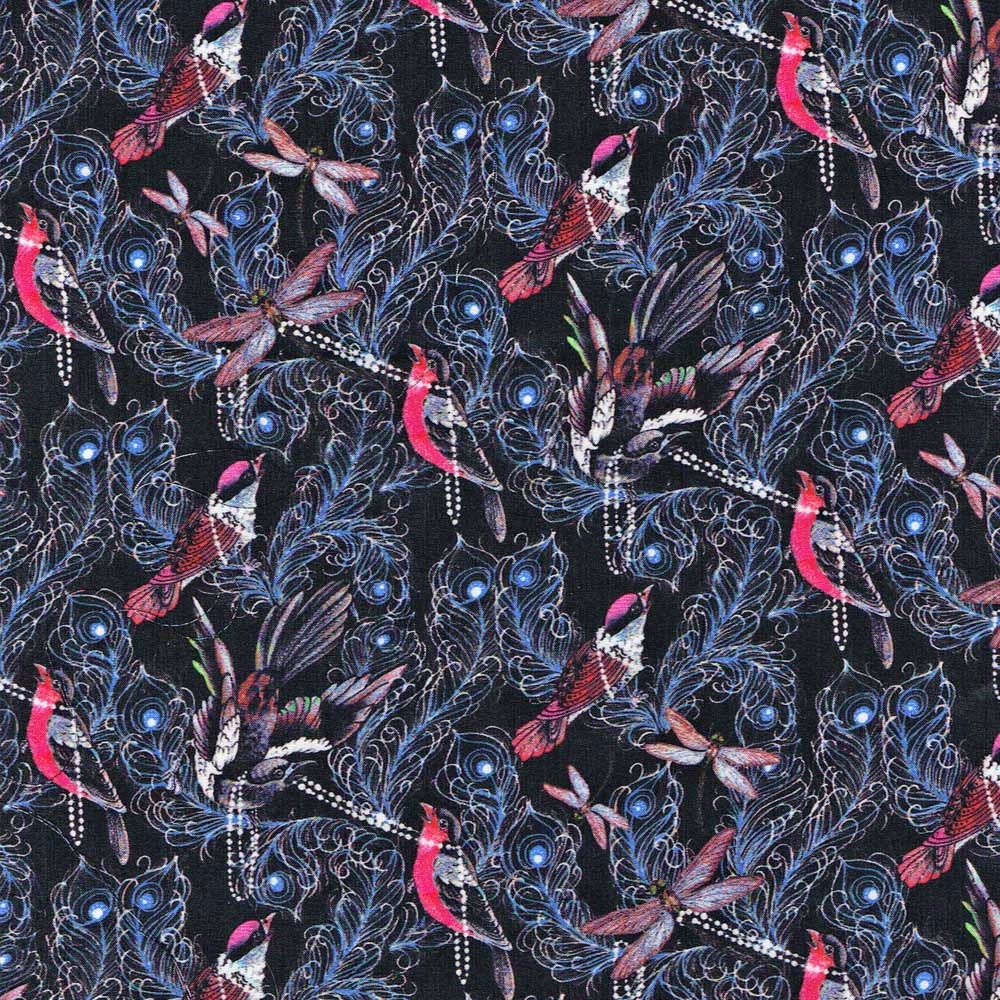 From Liberty of London:
"Mo Coppoletta has an international reputation for unique and exquisite tattoos, so was the perfect choice to represent this collection inspired by the art of touch.
Joy and Sorrow is derived from a fascination Mo has with nursery rhymes and their dark magic. He wanted to symbolise the Liberty peacock by using different kinds of birds. Mo adorned them with strings of pearls, deco brooches and surrounded them with dragonflies, all of which were inspired by Liberty
archive prints
from the 1920s, creating a surrealist design with deep dark grounds."
Here is an interview with Mo Coppoletta on his designs for Liberty if you are interested.
Now to the dress. The lovely fabric helps the dress along... unlike the stiff ugly fabric that I used for the muslin, the lawn helps it sit better. In addition, I raised the waist by about 5/8 inch. I think I should have taken it up a bit more, but it's ok. I cut a 36 and then graded to a 38 at the waist because I was worried about it being too tight. I needn't have worried. The dress definitely looks better with a belt as it helps emphasise my waist.
Cuffs up and unbuttoned
The sewalong was great but I still struggled a bit over getting the collar onto the collar stand at the front. You know - the rounded bit at the front. After I had done it I remembered
Jen's video tute
on attaching a collar - I reeeeeallly need to remember to use this next time I do a collar. I have been blessed that this material hides all faults.
The rest of it was straightforward - although it wasn't a fast make. I'm also reasonably happy with the invisible zip after
my last effort
.
The only things I'd change for next time would be to put the pockets up higher. They are sitting a bit too low for this shorty person. And maybe.. I'd add an inch to the length. I'm only 5'2" so if you are taller and want it to hit at the knee then you might need to add some length.
For the fitting purists it's not a perfect fit but it's pretty good and will definitely see a lot of wear - definitely work appropriate! A very cute dress and I'm glad I made it. Thanks Pauline for the pattern and the sewalong!
P.S. Shoes are these from Pour la Victoire.